Forest Management
A general method for the classification of forest stands using species composition and vertical and horizontal structure
De Caceres et al. in: Annals of Forest Science (2019), 76:2, Article 40
Are 40 years better than 55? An analysis of the reduction of forest rotation to cope with drought events in a Douglas fir stand
Breda, Brunette in: Annals of Forest Science (2019), 76:2, Article 29
Forest adaptation to climate changeis non-management an option?
Jandl et al. in: Annals of Forest Science (2019), 76:2, Article 48
Key lessons from resistant tree breeding programmes in the Northern Hemisphere
Woodcock, Marzano, Quine in: Annals of Forest Science (2019), 76:2, Article 51
Mapping oak shoot browning in SW Spain using online imagery as virtual prospecting tool
Torres-Vila et al. in: Annals of Forest Science (2019), 76:2, Article 32
Site- and tree-related factors affecting colonization of cork oaks Quercus suber L. by ambrosia beetles in Tunisia
Bellahirech et al. in: Annals of Forest Science (2019), 76:2, Article 45
Wood properties of black spruce (Picea mariana (Mill.) BSP) in relation to ring width and tree height in even- and uneven-aged boreal stands
Pamerleau-Couture et al. in: Annals of Forest Science (2019), 76:2, Article 43
Charcoal-related forest degradation dynamics in dry African woodlands: Evidence from Mozambique
Silva et al. in: Applied Geography (2019), 107, pp 72-81
Analyzing risk of regeneration failure in the managed boreal forest of northwestern Quebec
Splawinski et al. in: Canadian Journal of Forest Research (2019), 49:6, pp 680-691
Initial tree regeneration response to natural-disturbance-based silviculture in second-growth northern hardwood forests
Reuling et al. in: Canadian Journal of Forest Research (2019), 49:6, pp 628-639
Spatial partitioning of competitive effects from neighbouring herbaceous vegetation on establishing hybrid poplars in plantations
Goehing et al. in: Canadian Journal of Forest Research (2019), 49:6, pp 595-605
Analyzing the recent dynamics of wildland fires in Quercus suber L. woodlands in Sardinia (Italy), Corsica (France) and Catalonia (Spain)
Salis et al. in: European Journal of Forest Research (2019), 138:3, pp 415-431
Identification of zones with high potential for biological diversity on dormant forested landslides
Tracz et al. in: European Journal of Forest Research (2019), 138:3, pp 363-373
Natural woodlands hold more diverse, abundant, and unique biota than novel anthropogenic forests: a multi-group assessment
da Silva et al. in: European Journal of Forest Research (2019), 138:3, pp 461-472
Profitability of timber plantations on agricultural land in the Po valley (northern Italy): a comparison between walnut, hybrid poplar and polycyclic plantations in the light of the European Union Rural Development Policy orientation
Pra et al. in: European Journal of Forest Research (2019), 138:3, pp 473-494
The foraging activity of bats in managed pine forests of different ages
Wegiel et al. in: European Journal of Forest Research (2019), 138:3, pp 383-396
Belowground processes for two loblolly pine (Pinus taeda L.) families respond differently to the intensity of plantation management
Drum et al. in: Forest Ecology and Management (2019), 441, pp 293-301
Canopy height recovery after selective logging in a lowland tropical rain forest
Okuda et al. in: Forest Ecology and Management (2019), 442, pp 117-123
Combining tree species and decay stages to increase invertebrate diversity in dead wood
Andringa et al. in: Forest Ecology and Management (2019), 441, pp 80-88
Long-term tree-ring derived carbon dynamics of an experimental plantation in relation to species and density in Northwestern Ontario, Canada
Metsaranta in: Forest Ecology and Management (2019), 441, pp 229-241
Neighborhood competition mediates crown development of Picea sitchensis in Olympic rainforests: Implications for restoration management
Kramer et al. in: Forest Ecology and Management (2019), 441, pp 127-143
Prescribed fire effects on early recruitment of Mediterranean pine species depend on fire exposure and seed provenance
Sagra et al. in: Forest Ecology and Management (2019), 441, pp 253-261
Recovery in soil carbon stock but reduction in carbon stabilization after 56-year forest restoration in degraded tropical lands
Zhang et al. in: Forest Ecology and Management (2019), 441, pp 1-8
Spatial and temporal assessment of responder exposure to snag hazards in post-fire environments
Dunn et al. in: Forest Ecology and Management (2019), 441, pp 202-214
Stand structure drives disparities in carbon storage in northern hardwood-conifer forests
Thom, Keeton in: Forest Ecology and Management (2019), 442, pp 10-20
Tree species persistence under warming conditions: A key driver of forest response to climate change
Bouchard et al. in: Forest Ecology and Management (2019), 442, pp 96-104
A generalizable monitoring model to implement policies to promote forest restoration – A case study in Sao Paulo – Brazil
Nobre et al. in: Forest Policy and Economics (2019), 103, pp 123-135
A multicriteria stochastic optimization framework for sustainable forest decision making under uncertainty
Alvarez-Miranda et al. in: Forest Policy and Economics (2019), 103, pp 112-122
A simulation-based approach to assess forest policy options under biotic and abiotic climate change impacts: A case study on Scotland's National Forest Estate
Ray et al. in: Forest Policy and Economics (2019), 103, pp 17-27
Analyzing the effect of carbon prices on wood production and harvest scheduling in a managed forest in Turkey
Zengin, Unal in: Forest Policy and Economics (2019), 103, pp 28-35
Application of multi criteria analysis methods for a participatory assessment of non-wood forest products in two European case studies
Huber et al. in: Forest Policy and Economics (2019), 103, pp 103-111
Assessment of timber supply under alternative contextual scenarios
Mozgeris et al. in: Forest Policy and Economics (2019), 103, pp 36-44
Balancing different forest values: Evaluation of forest management scenarios in a multi-criteria decision analysis framework
Eggers et al. in: Forest Policy and Economics (2019), 103, pp 55-69
Carbon stocks and timber harvest. Alternative policy approaches for the Great Bear rainforest and their consequences
Griess et al. in: Forest Policy and Economics (2019), 103, pp 147-156
E-praxis: A web-based forest law decision support system for land characterization in Greece
Athanasiadis, Andreopoulou in: Forest Policy and Economics (2019), 103, pp 157-166
Explicating behavioral assumptions in forest scenario modelling – the behavioral matrix approach
Trubins et al. in: Forest Policy and Economics (2019), 103, pp 70-78
Forest owner behavioral models, policy changes, and forest management. An agent-based framework for studying the provision of forest ecosystem goods and services at the landscape level
Sotirov, Sallnas, Eriksson in: Forest Policy and Economics (2019), 103, pp 79-89
Linking forest policy issues and decision support tools in Europe
Linkevicius et al. in: Forest Policy and Economics (2019), 103, pp 4-16
Alteration to Woodland Structure through Midstory Mastication Increased Fuel Loading and Cover of Understory Species in Two Upland Hardwood Stands
Black et al. in: Forest Science (2019), 65:3, pp 344-354
Growth-Density Relationships in Loblolly Pine Plantations
Allen, Burkhart in: Forest Science (2019), 65:3, pp 250-264
Native Species Abundance Buffers Non-Native Plant Invasibility following Intermediate Forest Management Disturbances
Chance et al. in: Forest Science (2019), 65:3, pp 336-343
Reversing Mesophication Effects on Understory Woody Vegetation in Mid-Southern Oak Forests
Vander Yacht et al. in: Forest Science (2019), 65:3, pp 289-303
Application of an Adaptive Forest Management Simulation Model Based on Zoning in a Man-Made Forest
Sugiura, Sonohara in: Forests (2019), 10:6, Article 482
Figure 2
Zoning plan focused on wood production function.
---
Assessing Forest Ecosystems across the Vertical Edge of the Mid-Latitude Ecotone Using the BioGeoChemistry Management Model (BGC-MAN)
Song et al. in: Forests (2019), 10:6, Article 523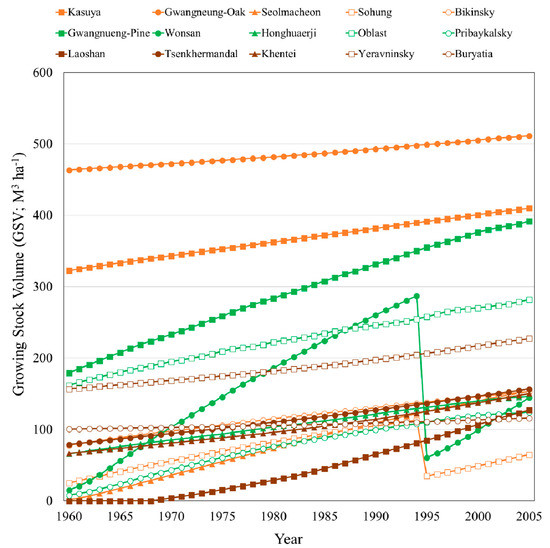 Figure 3
Growing stock volume (GSV) estimation through BGC-MAN simulations from 1960 to 2005.
Graphical abstract
---
Assessing Landscape Fire Hazard by Multitemporal Automatic Classification of Landsat Time Series Using the Google Earth Engine in West-Central Spain
Quintero et al. in: Forests (2019), 10:6, Article 518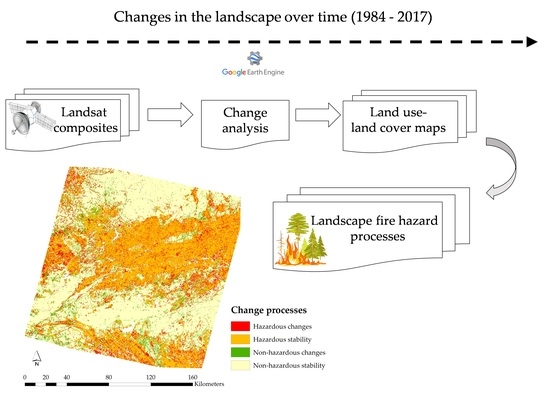 ---
Climate Effect on Ponderosa Pine Radial Growth Varies with Tree Density and Shrub Removal
Finley, Zhang in: Forests (2019), 10:6, Article 477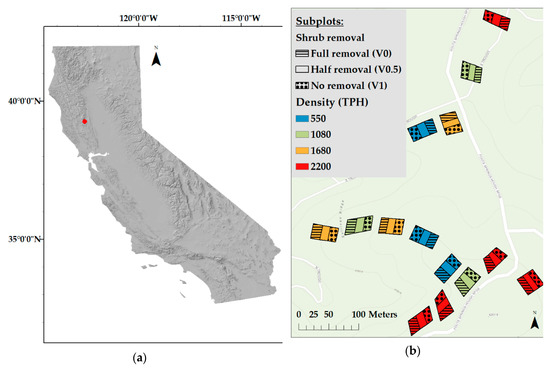 Figure 1
(a) Trough Springs plantation location in the north Coast Range of California (red); (b) 14 ponderosa pine research plots representing four densities (2200 TPH (control), 1680 TPH, 1080 TPH, and 550 TPH) and three shrub removal subplots: full shrub removal (V0); half shrub removal (V0.5); and no shrub removal (V1).
---
Coarse Woody Debris Management with Ambiguous Chance Constrained Robust Optimization
Hartl, Knoke in: Forests (2019), 10:6, Article 504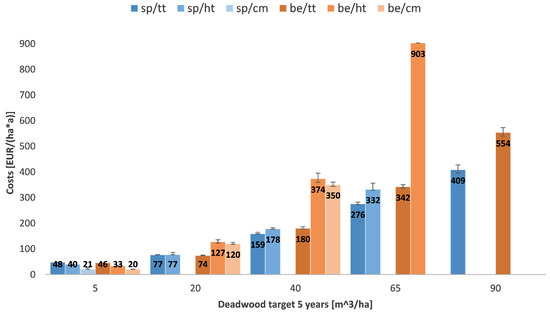 Figure 1
Forest enterprise "Eichelberg": Costs in [ € h a − 1 a − 1 ] for target deadwood amounts in [ m 3 h a − 1 ], to be maintained within 5 years. Blue columns show spruce (sp) and orange beech strategies (be). tt: Total tree, ht: Heavy timber, cm: Crown material.
---
Community-Based Watershed Change: A Case Study in Eastern Congo
Sabin et al. in: Forests (2019), 10:6, Article 475

---
Drivers of Wildfire Occurrence Patterns in the Inland Riverine Environment of New South Wales, Australia
Zhang, Lim in: Forests (2019), 10:6, Article 524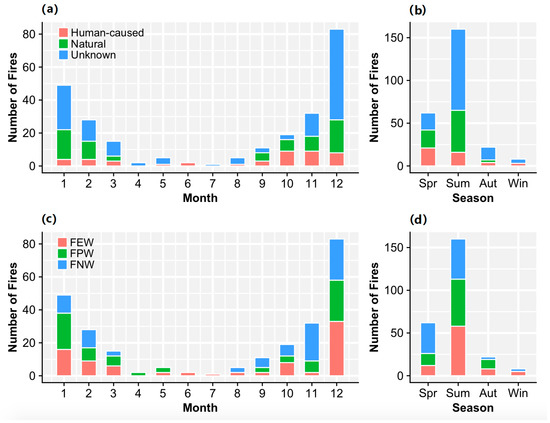 Figure 2
Monthly and seasonal distributions of wildfire (a,b) by cause and (c,d) by vegetation type burned. See the main body for the definition of FEW, FPW, and FNW. FEW, fires burned entirely in forested wetlands; FPW, fires burned partly in forested wetlands; FNW, fires not burned in forested wetlands.
---
Early Successional Forest Management on Private Lands as a Coupled Human and Natural System
Lutter et al. in: Forests (2019), 10:6, Article 499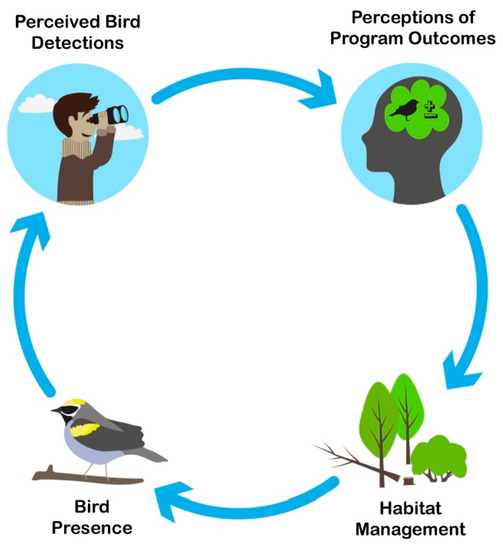 Figure 1
Hypothesized early successional forest coupled human and natural system at the property scale.
---
Economics of Early Intervention to Suppress a Potential Spruce Budworm Outbreak on Crown Land in New Brunswick, Canada
Liu et al. in: Forests (2019), 10:6, Article 481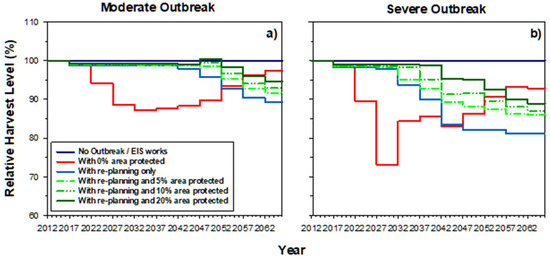 Figure 1
Projected relative total timber volume harvest for all Crown land in New Brunswick from 2012 to 2066 under (a) moderate and (b) severe spruce budworm (Choristoneura fumiferana Clem.) (SBW) outbreak and protection scenarios.
---
Grain and Extent Considerations Are Integral for Monitoring Landscape-Scale Desired Conditions in Fire-Adapted Forests
Wasserman et al. in: Forests (2019), 10:6, Article 465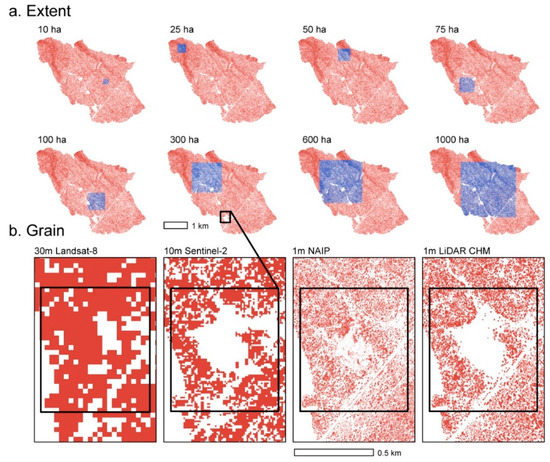 Figure 2
Remotely sensed data products and associated grain of each data source: Landsat-8 (30 m), Sentinel-2 (10 m), NAIP (1 m), and LiDAR (1 m). The top panel (a) shows the canopy cover of Windmill Draw landscape, with the blue areas representing the relative size of each extent (10–1000 ha) analyzed. The lower panel (b) shows size of the spatial grain (resolution) and level of information available for each data product within an example extent.
---
Growth Response of Sessile Oak and European Hornbeam to Traditional Coppice-with-Standards Management
Kadavy et al. in: Forests (2019), 10:6, Article 515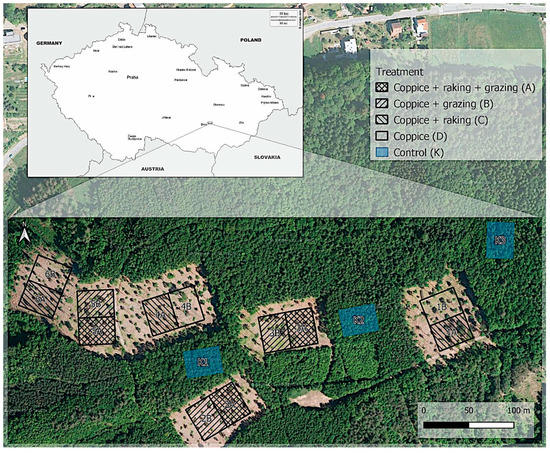 Figure 1
Arrangement of the experimental plots (aerial map (orthophotomap), © Seznam.cz, a.s., © TopGis, s.r.o.).
---
Logging Community-Based Forests in the Amazon: An Analysis of External Influences, Multi-Partner Governance, and Resilience
Espada, Sobrinho in: Forests (2019), 10:6, Article 461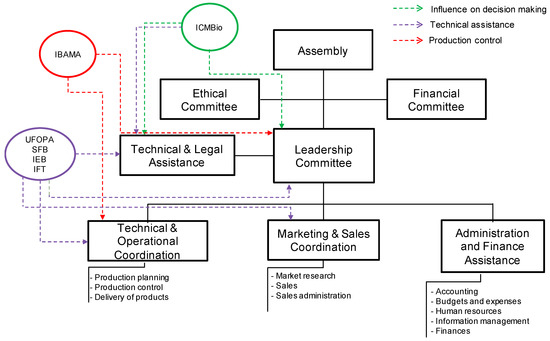 Figure 5
Influence relations in decision making, technical and institutional assistance, and timber production control according to the organization chart of the Mixed Cooperative of the Tapajós National Forest (Adapted from [98,107]).
---
Perspectives on Sustainable Forest Management in Interior Alaska Boreal Forest: Recent History and Challenges
Morimoto, Juday in: Forests (2019), 10:6, Article 484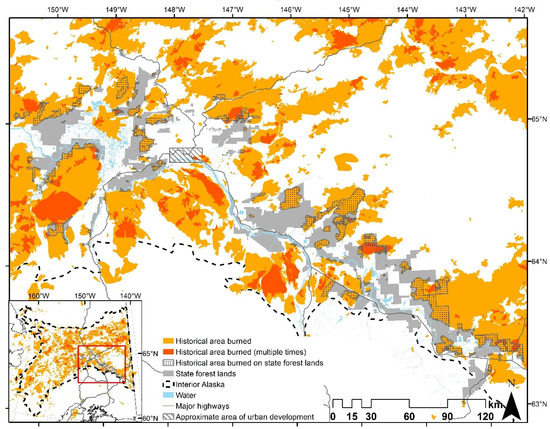 ---
The Impacts of Native Forests and Forest Plantations on Water Supply in Chile
Alvarez-Garreton et al. in: Forests (2019), 10:6, Article 473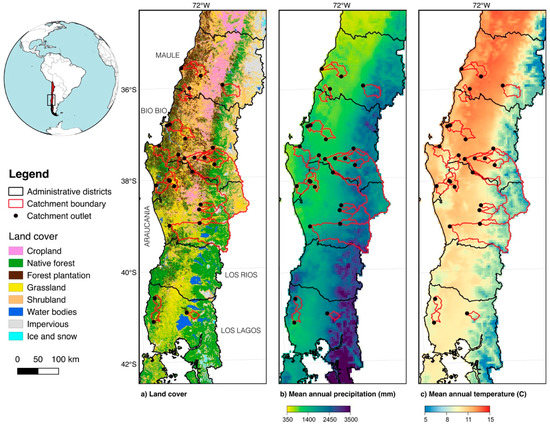 Figure 1
Twenty-five study catchments with land cover classes (panel a), mean annual precipitation (panel b) and mean annual temperature (panel c).
---
The Phenological Growth Stages of Sapindus mukorossi According to BBCH Scale
Zhao et al. in: Forests (2019), 10:6, Article 462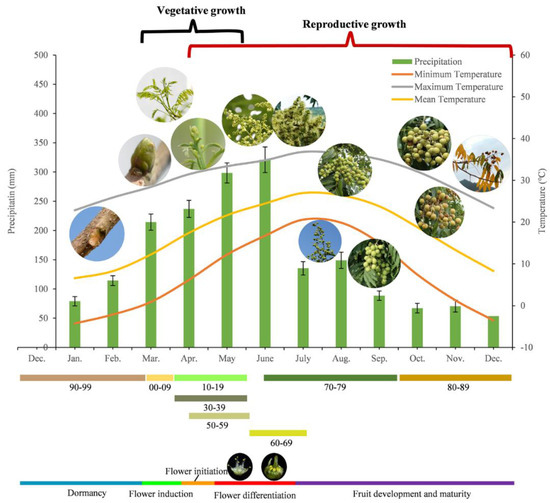 Figure 1
Main phenological growth stages of S. mukorossi according to the BBCH scale. Time elapsed in each stage (horizontal bars), 50 years' average data of precipitation and mean, maximum, and minimum temperatures.
---
Unraveling the Relationship between Collective Action and Social Learning: Evidence from Community Forest Management in Canada
Assuah, Sinclair in: Forests (2019), 10:6, Article 494
What (De)Motivates Forest Users' Participation in Co-Management? Evidence from Nepal
Kimengsi et al. in: Forests (2019), 10:6, Article 512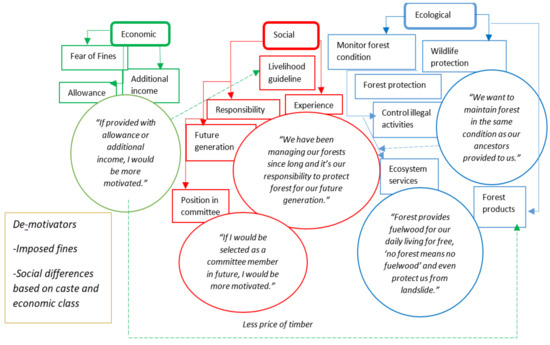 Figure 5
The web of drivers for forests users' (de)motivation to participate in co-management.
---
Conventional land-use intensification reduces species richness and increases production: A global meta-analysis
Beckmann et al. in: Global Change Biology (2019), 25:6, pp 1941-1956
Brazil nut forest concessions in the Peruvian Amazon: success or failure?
Willem, Ingram, Guariguata in: International Forestry Review (2019), 21:2, pp 254-265
Incentives for the development of bamboo plantations in Ghana: a case study of the Ashanti and Brong-Ahafo regions
Addo-Danso, Bulkan, Innes in: International Forestry Review (2019), 21:2, pp 131-148
Smallholder forestry: the role of commercial forestry in rural livelihoods in Indonesia
Race et al. in: International Forestry Review (2019), 21:2, pp 225-237
The legitimacy of environmental governance based on consultation with indigenous people: insights from Mexico's REDD plus readiness process in the Yucatan Peninsula
Spiric, Ramirez, Skutsch in: International Forestry Review (2019), 21:2, pp 238-253
Forest intensification in Ireland: Developing an approximation of social acceptability
Duesberg, Dhubhain in: Land Use Policy (2019), 85, pp 368-386
Global analysis of streamflow response to forest management
Evaristo, McDonnell in: Nature (2019), 570:7762, pp 455-461
Mangroves shelter coastal economic activity from cyclones
Hochard, Hamilton, Barbier in: Proceedings of the National Academy of Sciences of the United States of America (2019), 116:25, pp 12232-12237
Genetic structure analysis and selection of a core collection for carob tree germplasm conservation and management
Guardo et al. in: Tree Genetics & Genomes (2019), 15:3 , Article 41
Elevation-influenced variation in canopy and stem phenology of Qinghai spruce, central Qilian Mountains, northeastern Tibetan Plateau
Peng et al. in: Trees – Structure and Function (2019), 33:3, pp 707-717
Identifying architectural characteristics that determine tree structural complexity
Seidel et al. in: Trees – Structure and Function (2019), 33:3, pp 911-919
Interactive effects of drought and shading on Torreya grandis seedlings: physiological and growth responses
Lin et al. in: Trees – Structure and Function (2019), 33:3, pp 951-961
Tree-ring formation, radial increment and climate-growth relationship: assessing two potential tree species used in Brazilian Atlantic forest restoration projects
Albuquerque et al. in: Trees – Structure and Function (2019), 33:3, pp 877-892
Fourteen local governance initiatives in greenspace in urban areas in the Netherlands. Discourses, success and failure factors, and the perspectives of local authorities
Aalbers, Kamphorst, Langers in: Urban Forestry & Urban Greening (2019), 42, pp 82-99