Biodiversity
Understanding the controls over forest carbon use efficiency on small spatial scales: Effects of forest disturbance and tree diversity
Kunert et al. in: Agricultural and Forest Meteorology (2019), 269, pp 136-144
Genetics and ecology of plant species occurring on the Banded Iron Formations in the Yilgarn, Western Australia
Byrne in: Australian Journal of Botany (2019), 67:3, pp 165-171
Phylogeographic analyses of Acacia karina (Fabaceae) support long term persistence of populations both on and off banded iron formations
Funnekotter et al. in: Australian Journal of Botany (2019), 67:3, pp 194-204
The potential impact of mining on population genetic variation in the Banded Ironstone Formation endemic Tetratheca erubescens (Elaeocarpaceae)
Krauss, Anthony in: Australian Journal of Botany (2019), 67:3, pp 172-182
Anthropogenic thermal gradient in managed landscapes determines physiological performance and explains the edge-biased distribution of ectothermic arthropods
Barahona-Segovia et al. in: Forest Ecology and Management (2019), 440, pp 147-157
Climbing the mountain fast but smart: Modelling rubber tree growth and latex yield under climate change
Yang et al. in: Forest Ecology and Management (2019), 439, pp 55-69
Comparison of the understory vegetation of native forests and adjacent Robinia pseudoacacia plantations in the Carpathian-Pannonian region
Slabejova et al. in: Forest Ecology and Management (2019), 439, pp 28-40
Differential effects of forestry plantations on bird diversity: A global assessment
Castano-Villa et al. in: Forest Ecology and Management (2019), 440, pp 202-207
Discriminating among forest communities based on taxonomic, phylogenetic and trait distances
Hao et al. in: Forest Ecology and Management (2019), 440, pp 40-47
Early responses of vascular plant and bryophyte communities to uniform shelterwood cutting in hemiboreal Scots pine forests
Tullus et al. in: Forest Ecology and Management (2019), 440, pp 70-78
Expanding networks of field hedges in densely populated landscapes in the Sahel
Hiernaux et al. in: Forest Ecology and Management (2019), 440, pp 178-188
How long are thinning-induced resource pulses maintained in plantation forests?
Gandiaga, Moreau in: Forest Ecology and Management (2019), 440, pp 113-121
Increasing influence of the surrounding landscape on saproxylic beetle communities over 10 years succession in dead wood
Jonsell et al. in: Forest Ecology and Management (2019), 440, pp 267-284
Land-use history influence the vegetation in coniferous production forests in southern Sweden
Milberg et al. in: Forest Ecology and Management (2019), 440, pp 23-30
Long-term effect of selective logging on floristic composition: A 25 year experiment in the Brazilian Amazon
Gaui et al. in: Forest Ecology and Management (2019), 440, pp 258-266
New diseases due to indigenous fungi in a changing world: The case of hop hornbeam canker in the Italian Alps
Scala et al. in: Forest Ecology and Management (2019), 439, pp 159-170
Transgressive overyielding in mixed compared with monospecific Scots pine (Pinus sylvestris L.) and oak (Quercus robur L., Quercus petraea (Matt.) Liebl.) stands – Productivity gains increase with annual water supply
Steckel et al. in: Forest Ecology and Management (2019), 439, pp 81-96
Variations in forest structure, tree species diversity and above-ground biomass in edges to interior cores of fragmented forest patches of Taita Hills, Kenya
Wekesa et al. in: Forest Ecology and Management (2019), 440, pp 48-60
Arbuscular Mycorrhizal Fungi Associated with Tree Species in a Planted Forest of Eastern China
Wang et al. in: Forests (2019), 10:5, Article 424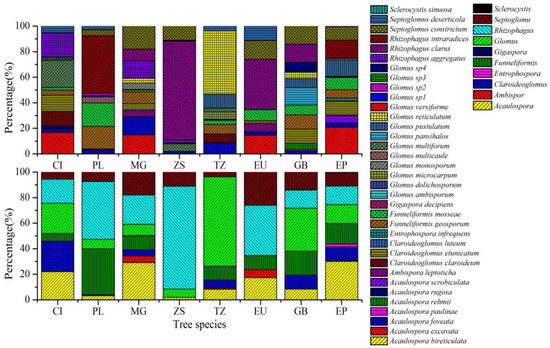 Figure 1
AMF community composition in the rhizosphere soils of different tree species. Tree species: CI, Carya illinoensis; PL, Populus lasiocarpa; MG, Metasequoia glyptostroboides; ZS, Zelkova serrata; TZ, Taxodium 'zhongshansha'; GB, Ginkgo biloba; EP, Elaeagnus pungens.
---
Avian Reporting Rates in Chugcheongnam Province, South Korea Depend on Distance from Forest Edge, Size of Trees, and Size of Forest Fragments
Jang et al. in: Forests (2019), 10:5, Article 364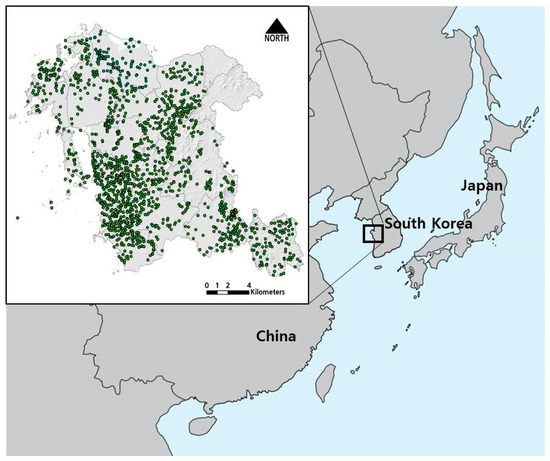 Figure 1
Sampling sites in Chungcheongnam Province.
---
Beta-Diversity Modeling and Mapping with LiDAR and Multispectral Sensors in a Semi-Evergreen Tropical Forest
Ochoa-Franco et al. in: Forests (2019), 10:5, Article 419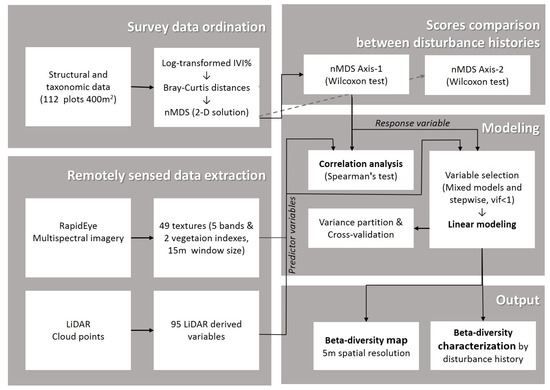 Figure 1
Flowchart representing the whole procedure. Log-transformed percentage Importance Value Indexes (IVI%) of the species at plot level were ordinated onto a 2-D non-metric multidimensional scaling ordination (nMDS). Differences between disturbance histories were tested for each axis-scores, and the axis sensitive to that was linearly modeled. As predicted variables, textures of the five bands and two vegetation indexes were calculated from RapidEye Multispectral imagery and 95 LiDAR-derived variables. Spearman's correlations were calculated between the response variable and the predictor variables, and the variable selection was performed using iteratively a linear mixed model that includes as fixed effect the covariate to be tested, and a random effect that takes into account that there exists other covariates that needs to be considered. We finally rank the variables from the lower p-values, and apply a stepwise selection procedure to the top ten covariates. Linear dependencies were explored by computing the variables' variance inflation factors (VIF). The relative importance of LiDAR and RapidEye derived variance was assessed. Model predictive ability was assessed via ten-fold cross-validation and the final model was used to map it for the study area extent, each disturbance history with a characteristic position in the compositional ordination space (β-diversity).
---
Devising Urban Biodiversity Habitat Provision Goals: Ecosystem Services Analysis
Zari in: Forests (2019), 10:5, Article 391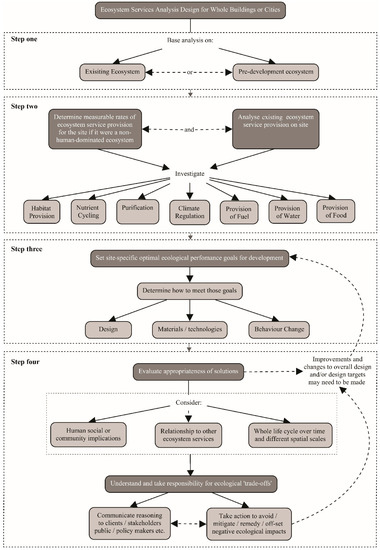 Figure 1
Ecosystem services analysis process (source: Pedersen Zari).
---
Polish Pony Changes Lower Layer Biodiversity in Old Growth Scots Pine Stands
Boiko et al. in: Forests (2019), 10:5, Article 417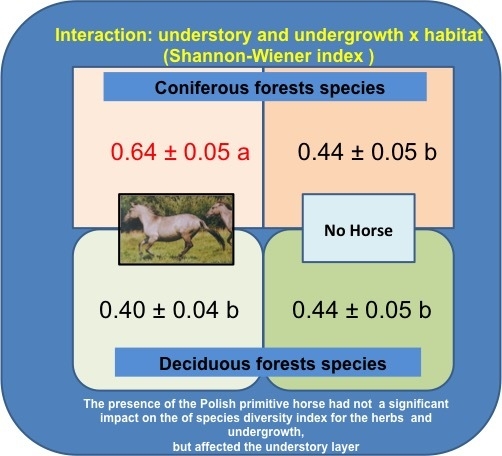 ---
Species-Area Relationship and Its Scale-Dependent Effects in Natural Forests of North Eastern China
Chen, Jiang, Zhao in: Forests (2019), 10:5, Article 422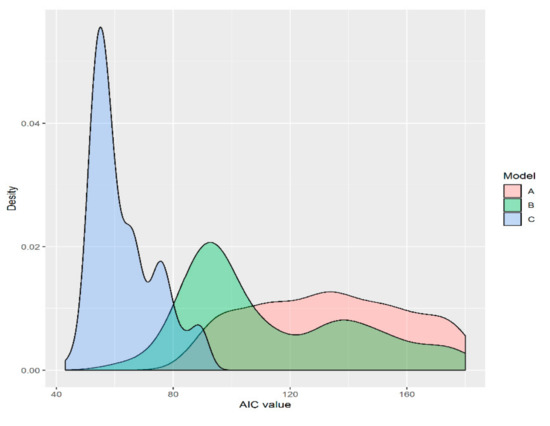 Figure 2
The density distribution of the Akaike information criterion values for three models fitted to the species–area data (p < 0.001). A: logarithmic model, B: power model, C: logistic model.
---
The Impact of Different Management Scenarios on the Availability of Potential Forest Habitats for Wildlife on a Landscape Level: The Case of the Black Stork Ciconia nigra (Linnaeus, 1758)
Banas et al. in: Forests (2019), 10:5, Article 362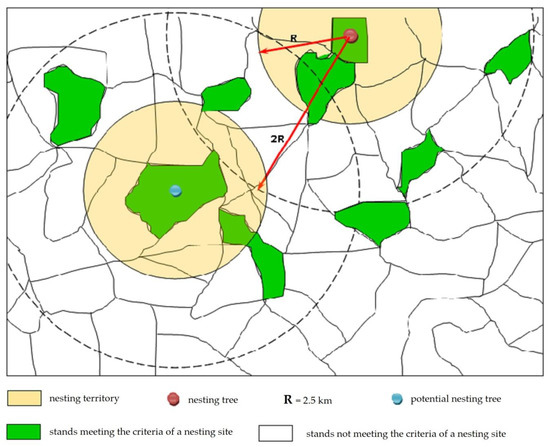 Figure 3
Method of identifying potential nesting territories.
---
Transcriptome Sequencing of Different Avocado Ecotypes: de novo Transcriptome Assembly, Annotation, Identification and Validation of EST-SSR Markers
Ge et al. in: Forests (2019), 10:5, Article 411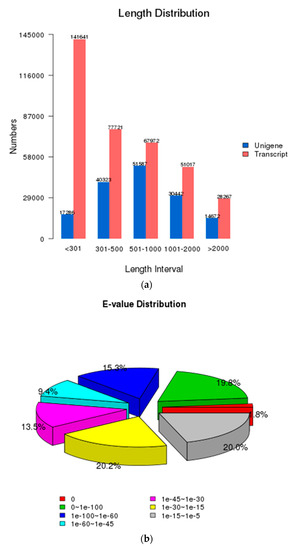 Figure 1
Characteristics of transcripts and unigenes. (a) Transcript and unigene length distributions. (b) E-value distribution of top BLASTX matches per unigene. (c) Distribution of top-matching species for each unigene from BLASTX comparisons of avocado sequences with other plant species.
---
The Moral Minefield of Ethical Oil Palm and Sustainable Development
Meijaard, Sheil in: Frontiers in Forests and Global Change (2019), 2, Article 22
Carbon flux from decomposing wood and its dependency on temperature, wood N-2 fixation rate, moisture and fungal composition in a Norway spruce forest
Rinne-Garmston et al. in: Global Change Biology (2019), 25:5, pp 1852-1867
Four decades of plant community change along a continental gradient of warming
Becker-Scarpitta, Vissault, Vellend in: Global Change Biology (2019), 25:5, pp 1629-1641
Land-sparing agriculture sustains higher levels of avian functional diversity than land sharing
Cannon et al. in: Global Change Biology (2019), 25:5, pp 1576-1590
Synergistic effects of climate and land-use change influence broad-scale avian population declines
Northrup et al. in: Global Change Biology (2019), 25:5, pp 1561-1575
Real-Time Monitoring with a Tablet App Improves Implementation of Treatments to Enhance Forest Structural Diversity
Maher et al. in: Journal of Forestry (2019), 117:3, pp 280-292
Alternate successional pathway yields alternate pattern of functional diversity
St Martin, Mallik in: Journal of Vegetation Science (2019), 30:3, pp 461-470
Drivers of plant richness patterns of Mediterranean riparian forests at local and regional scales have bottom-up and top-down effects
Leo et al. in: Journal of Vegetation Science (2019), 30:3, pp 485-497
Fire can weaken or trigger functional responses of trees to flooding in wetland forest patches
Souza et al. in: Journal of Vegetation Science (2019), 30:3, pp 521-532
Hedgerow age affects the species richness of herbaceous forest plants
Litza, Diekmann in: Journal of Vegetation Science (2019), 30:3, pp 553-563
A tale of two cities-From separation to common green connectivity for maintaining of biodiversity and well-being
Pirnat, Hladnik in: Land Use Policy (2019), 84, pp 252-259
Integrated quantification of forest total economic value
Loomis, Knaus, Dziedzic in: Land Use Policy (2019), 84, pp 335-346
Sixty years of tracking conservation progress using the World Database on Protected Areas
Bingham et al. in: Nature Ecology & Evolution (2019), 3:5, pp 737-743
A height-wood-seed axis which is preserved across climatic regions explains tree dominance in European forest communities
Costa-Saura et al. in: Plant Ecology (2019), 220:4-5, pp 467-480
Riparian and adjacent forests differ both in the humid mountainous ecoregion and the semiarid lowland
Pero, Quiroga in: Plant Ecology (2019), 220:4-5, pp 481-498
Assembly of modern mammal community structure driven by Late Cretaceous dental evolution, rise of flowering plants, and dinosaur demise
Chen, Stromberg, Wilson in: Proceedings of the National Academy of Sciences of the United States of America (2019), 116:20, pp 9931-9940
Long-term declines in bird populations in tropical agricultural countryside
Sekercioglu et al. in: Proceedings of the National Academy of Sciences of the United States of America (2019), 116:20, pp 9903-9912
An integrated study on air mitigation potential of urban vegetation: From a multi-trait approach to modeling
Baraldi et al. in: Urban Forestry & Urban Greening (2019), 41, pp 127-138
Colonial history impacts urban tree species distribution in a tropical city
Hunte et al. in: Urban Forestry & Urban Greening (2019), 41, pp 313-322
Ecosystem services, ecological integrity, and native species planting: How to balance these ideas in urban forest management?
Conway, Almas, Coore in: Urban Forestry & Urban Greening (2019), 41, pp 1-5
Investigating the benefits of 'leftover' places: Residents' use and perceptions of an informal greenspace in Melbourne
Farahani, Mailer in: Urban Forestry & Urban Greening (2019), 41, pp 292-302
Management intensity steers the long-term fate of ecological restoration in urban woodlands
Johnson, Handel in: Urban Forestry & Urban Greening (2019), 41, pp 85-92
Modeling the effects of landscape patterns of current forests on the habitat quality of historical remnants in a highly urbanized area
Han et al. in: Urban Forestry & Urban Greening (2019), 41, pp 354-363
Of bugs and men: How forest pests and their management strategies are perceived by visitors of an urban forest
Gutsch, Larondelle, Haase in: Urban Forestry & Urban Greening (2019), 41, pp 248-254
Rural agroforestry artifacts in a city: determinants of spatiotemporally continuous fruit orchards in an urban area
Janecka et al. in: Urban Forestry & Urban Greening (2019), 41, pp 33-38
Tree diversity and structure on green space of urban and peri-urban zones: The case of Lubumbashi City in the Democratic Republic of Congo
Sikuzani et al. in: Urban Forestry & Urban Greening (2019), 41, pp 67-74
Visual sensitivity versus ecological sensitivity: An application of GIS in urban forest park planning
Zheng et al. in: Urban Forestry & Urban Greening (2019), 41, pp 139-149